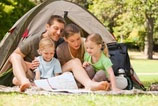 Spending some time away from the city can be a great way to escape from hectic work schedules, traffic jams, pollution and noise. Sometimes what some people need is just some peace and quiet. However, you don't have to do it alone. Why not bring your family members with you? Camping is the outdoor activity that I am talking about. In order for you to have a place to stay in the wilderness, you and your family need a cabin tent.
Cabin tents are bigger in size compared to other tents. They have amazing features which you cannot find in any other. They usually have larger doorways and several windows. There are even some of them that have porches. All of these make up for good ventilation inside these tents. No other tent could ever provide the comfort of a home. You will be amazed with how cabin tents look like they resemble a small house or a cabin. Although these may not be that spacious, they have more space compared to the average tent. This means more privacy for you and your family members. They also have numerous rooms available which make your family feel more comfortable while camping. Have you ever tried camping before? If so, then you must know that every inch of space is significant.
One advantage that cabin tents can provide is that they have enough room to allow campers to stand inside them. This feature is what cheap tents lack. They don't have that much space which makes moving around quite difficult. Moreover, since these tents are roomy, they provide a place where you can place your things. Are you planning to bring an air mattress with you? If you are, then choose the tent that can accommodate eight to ten people maximum. Doing so can allow you to have enough space for everything and everyone. In addition, by using this type of tent you are able to maximize a lot of space. Let's say your camp site limits the number of tents that you can pitch. Having a cabin tent is the best way to utilize the allowable space that you can use. If your camping trip does not involve hiking which means you are going to bring your own vehicle with you, then a cabin tent is your best choice. You and your family members would surely enjoy all the amazing benefits that this tent can offer.
When we go camping we always bring along our family cabin tents. This ensures we always have enough space for all the campers and all of their gear.
Article Source: http://EzineArticles.com/?expert=Mark_R_Crawford