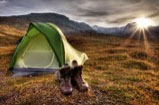 As we start the new camping season its always good to review some tips on keeping dry. Nothing makes a campout more unbearable than getting your gear all soggy! Although most people camp during the summer months when it's warm and dry there are times during the season when you will get rain. But, fear not! Here are some tips to staying dry that I have learned from my 25+ years camping with the Boy Scouts.
TIP #1
o Did you use seam sealer on your tent? Remember to seal all tent seams on an annual basis. Purchase some "fresh" sealer from a sporting goods or camping store. During your first outing in the spring, re-seal all your seams with a liberal amount of sealer.
TIP #2
o Are you putting a ground sheet or cloth under your tent when you camp? It's not just enough to put the ground sheet under the tent, you've got to tuck the edges under the tent so when it rains the water will not collect on the ground sheet and run under the tent. 🙁
So, if your rain fly is installed correctly, the seam sealer holding and the ground sheet properly tucked under the tent you should be go to go! – at least from moisture getting into your tent.
TIP #3
o When inside the tent during a rainstorm, make sure your gear, sleeping bags, mattress, etc. are not touching the tent walls. Why? Well, the tent walls and rain fly are designed to deflect the water droplets off the tent and onto the ground. If you upset this design by putting your pack, sleeping bag or other gear against the wall, water will pool and soak through the tent wall!
I learned this the hard way! I was in a small tent and didn't realize that my sleeping bag was resting against the tent wall. During the night it rained and I slept through it. In the morning I had a wet spot at the foot of my sleeping bag and a puddle on the floor of my tent. 🙁
TIP #4
o When you enter the tent after being out in the rain, take off your wet clothes and put them in a corner or at the front of your tent with your wet shoes. Some tents have a small vestibule that is ideal for this. By using this tip, you will "localize" all your wet gear and keep the other gear dry.
TIP #5
o Bring rain gear or a poncho. Ya, I know that sounds pretty obvious, but you'd be surprised at how many campers are ill prepared for rain. You can get a $2 poncho at Target that will keep most of the rain out. I have a lightweight rain suit, top and pants that I found to be a lifesaver a number of times. In a pinch, you can take a large, green garbage bag; cut three holes in it for your head and arms and it will keep you dry too! I know, my son does it all the time. He's so fashionable! 🙂
If you are prepared and follow these Tips you can enjoy even the most inclement of camping days. It can be fun to be inside the tent play a card game or reading a good book while you listen to the pitter, patter of the rain on your tent. Make some hot chocolate, tea or soup and enjoy!
Tim Dales, author of "Discover the Secrets of Family Camping Without Breaking the Bank!" reveals the tips and techniques that he has learned from over 25 years of camping and hiking as a Boy Scout, camping with his own family and as a Scoutmaster, leading Scouts on campouts. This book is chock full of camping secrets that will make any campout a success. For more information go to: http://www.thecampingguy.com
A percentage of the proceeds from the sale of the book will go the Boy Scouts of America to assist with their great Scouting programs around the world.
Article Source: http://EzineArticles.com/?expert=Tim_Dales