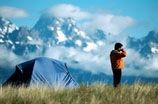 A beginner should first try car camping before venturing into the back-country with everything they need on their backs. The reason for this is that it is easier and a lot safer compared to backpacking. Car camping is a good way to practice for backpacking. Like they say, learn to walk before you can run.
The following camping tips will help you get started:
1. Research
Don't just choose any campsite to camp in, choose one that you would like. Do some research and when you've got what you want, go and make a reservation. You can just drive to a campground and check in but there's no guarantee you'll get a spot. There are a lot of campgrounds available and most of them are listed on the internet.
If you need to shower, make sure the campground has shower facilities or carry your own portable camp shower. Different campground also cater for a variety of experiences including hiking, island camping, boating, beaches, areas with picnic tables and more.
Your main goal in your research is to go for a campground where you'll have as much fun as possible and one which fulfills all your needs.
2. Camping Gear
Dome tents are pretty common for car camping likely because people appreciate the extra headroom but cheap tents are likely to leak. Applying some waterproofing may help but you can also cover your tent to help keep the rain out. You might also want to consider tarps to put on the floor.
Don't forget the tools required to set up your tent like a hammer for the stakes. Also take something sharp for cutting firewood, flashlight and/or lantern for the night, your sleeping bag, garbage bag for garbage and dirty clothes, extra rope, camp stove, fire-starting gear and all other essentials.
3. Sleep
Sleep may not come easily for you especially for a beginner. For padding and insulation, use an inflatable camping mat or you might prefer a camping cot. For car camping, I would take a padded camping cot for the comfort. What I like about cots is that you don't have to worry about sharp rocks and roots on the ground.
4. Clothing
Clothing depends on the where you're going. Be ready for the weather and temperature or you might soon regret it. Make sure you check out the weather report. Don't forget to pack your rain gear and don't bring anything you don't want to get dirty.
5. Food
Make sure you have the proper camping cookware like pots, pans, spoon, fork, etc. Plan your meals and pack all the required ingredients. Remember the salt and pepper and condiments that you want to use. It's not a bad idea to practice preparing your camping food at home.
Bring along some easy-to-make food like instant soup or noodles just in case. Also bring a grill if you want to cook over the campfire and if not, don't forget your camp stove. Your camp stove should always be tested at home before you go on your camping trip.
Remember that you need to clean up after meals and that means washing up your dishes. Take disposable paper dishes, bowls and utensils if you want to avoid washing them. This doesn't mean you can avoid any washing at all because you need to clean the pots. Bring your own washing soap and dish towel.
6. Coolers
You won't be able to bring coolers on a backpacking trip and it's optional for car camping but it's well worth taking along. Two is better than one. One can be used for food and the other for drinks but don't forget the ice.
7. Bugs
Unless it's winter, you are likely going to have to deal with bugs. A good tent should be able to protect you from the bugs but an insect repellent would still prove to be very useful.
8. Pets
It's great to have your dog around but be sure you have a copy of its rabies vaccination certificate and adequate chain and leash. There is no tolerance for free-running dogs at state campgrounds.
9. Be careful with plants
At least learn about how poison ivy looks like or any other plants that could put you in danger. Wearing long shirts and pants will help you to stay safe.
10. Enjoy
It's your first time but don't worry too much. You might encounter some problems on your trip but don't let that stop you from enjoying the trip. Everything does not have to be perfect.
Jonsky is a writer for Hiking-Camping-World.com. If you want a tent with lots of space for your family, you go for a family dome tent or better yet get a cabin tent if you want a lot more comfortable space. The bigger the tent the better. If you plan to sleep 4 people, get a 6 person tent or bigger.
Article Source: http://EzineArticles.com/?expert=Jonsky_Sicuna